Microsoft Outlook is widely used by businesses and home users as an email client. But many error messages frequently occur while using this application. A common but frustrating error is 0x80004005.
Outlook Error 0x80004005: The Operation Failed
Sometimes, the following error message is displayed by Outlook while trying to open any email:
Sending and receiving the reported error 0x80004005: The operation failed.
And the user will not be able to download the incoming mails.
You may get similar error messages (0x800ccc0d or 0x800ccc0e) while sending emails also.
Causes of Outlook error 0x80004005
Following are some of the leading causes for error code 0x80004005:
Script Blocking by an antivirus tool
This usually happens due to false identification and reporting by the antivirus software. This is most common with Norton Antivirus. Most of the antivirus software has a feature known as Script Blocking. If any application on your PC tries to run a script from a .bat or .reg file, the Script Blocking feature becomes active to check for any malicious code in it. If any malicious activity is discovered, then it immediately tries to block the script from executing.
It is often the case that antiviruses falsely detect malicious code in a clean file too (False Positive). In general, your antivirus software might block some script run by MS Outlook due to false-positive detection. This will result in MS Outlook throwing the error code 0x80004005.
Missing or Corrupt Registry Keys
Registry keys are used to store information and settings for software programs, user preferences, hardware devices, OS configurations, and much more. Any corruption or damage to the keys might affect the proper functioning of MS Outlook, and hence this error.
Any kind of malicious attacks on the PST or other Outlook files can be the reason for several abnormal behaviors, including this error.
How to fix the Outlook error 0x80004005?
Disabling script blocking feature may be dangerous from the security point of view. So, consider the security requirements of your environment before lowering it. Now have a look at the different methods by which can remove the 'Operation failed' error from your system.
Following are some of the fixes that we have devised for you:
Method 1: Disable the script blocking feature of Norton antivirus
If you are using Norton antivirus as your anti-virus program, then you can disable its script blocking settings (uncheck the 'Enable Script Blocking' option). For more information, please visit the Norton website or follow the steps outlined below:
Launch Norton AntiVirus, Norton SystemWorks or Norton Internet Security
Now click on Options. If there is a menu, click Norton AntiVirus.
On the left pane, select Script Blocking.
On the right pane, uncheck Enable Script Blocking
Click OK.
Method 2: Disable Outlook's New-Mail notification
Disabling New-Mail notification can help in resolving Outlook error message at the time of receiving emails (however, this will not resolve Outlook error messages at the time of sending emails). If you are using Outlook 2016, this is how you can do this:
Click the File menu in the ribbon and choose Options from the list.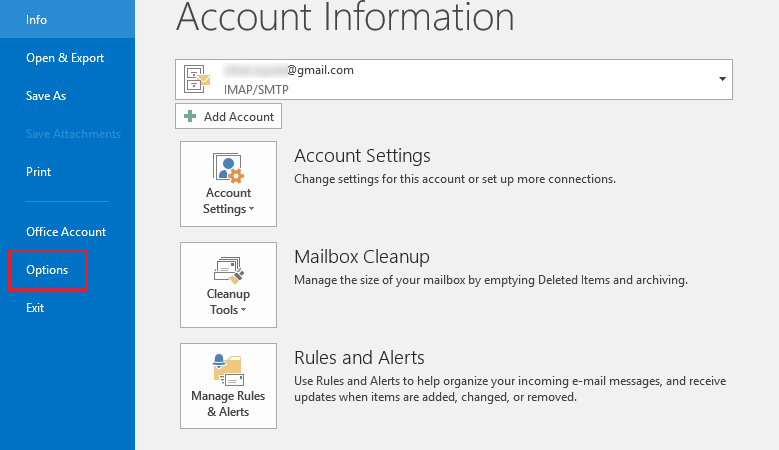 It will open a dialog box named Outlook Options. Go to the Mail tab. Under the Message arrival section, uncheck the Display a Desktop Alert option. It will stop the desktop notification of the incoming messages.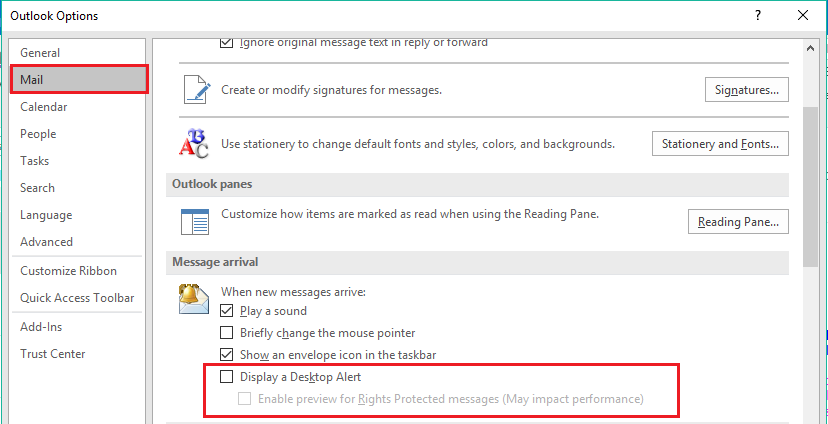 Method 3: Kernel for Outlook PST Repair
If the previous two methods didn't solve your problem, then it might be the time to look for a professional Outlook PST repair tool. One such reliable tool is Kernel for Outlook PST Repair. This Outlook PST repair tool can repair severely corrupted PST files and can save PST files to MBOX, Office 365 and Exchange Server. It comes with a ton of impressive features. One such feature is that it can recover deleted messages and attachments. It can repair ANSI and UNICODE PST files, irrespective of the file size.